Local mode & test mode problem, some general Info..
What is Local mode?
Local mode is triggered either by a service battery / jig from Nokia being used to power the phone,
A faulty battery, a faulty phone or the phone has got "liquid ingress" also indicate local mode in display
See this picture.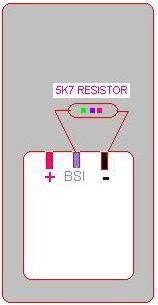 in the above picture when BSI is grounded with a resistor of
5.1k to 7k1 and insert battery, nokia sets displays local/test mode on screen
By this way we can trigger the set in to local mode and software operation through USB
Local mode is triggered for reading & writing phone pm area (EEPROM),
File system formatting etc.
What is test mode?
Test mode is for doing file system removing like full factory defaults
Also can do pm area re-writing and for unlocking the phone
Some phones displays either of these modes directly when battery is inserted to the phone
and we gets in this condition for repairing
This may be either by a faulty battery or damaged hardware in the handset.
We can assume this is a BSI related fault
TEST THE PHONE WITH A WORKING BATTERY
Now what is BSI?
BSI, the thermistor used to sense the battery temperature and shut down the charger
Their is an internal circuit from power IC to BSI lead of battery
this circuit manages charging mechanism and battery sensing.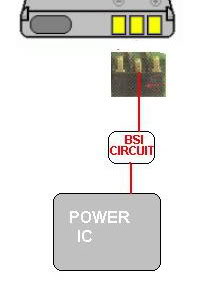 Faulty parts in this BSI circuit may lead to the local/test mode
Or finally we have to suspect power ic
Here NOKIA 1200 schematic is used to illustrate BSI way and possible reasons for this fault.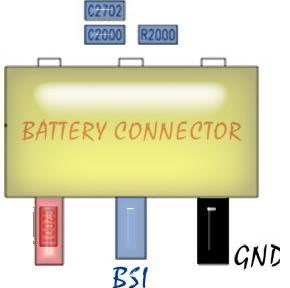 he blue colored parts are related to the BSI function .we have to trace from battery connector, capacitors, and then other parts. These parts can be identified by reading the higher level schematic of the phone. By following this logic you may be able to trace local mode in any nokia phone